9VAC25-260-360. Section number and description columns.
A. Basin descriptions. The tables that follow divide the state's surface waters into 10 river basins, some with subbasins: Potomac River Basin (Potomac and Shenandoah Subbasins), James River Basin (Appomattox River Subbasin), Rappahannock River Basin, Roanoke River Basin, Yadkin River Basin, Chowan and Dismal Swamp Basin (Chowan and Albemarle Sound Subbasins), Tennessee and Big Sandy Basins (Big Sandy, Clinch and Holston Subbasins), Chesapeake Bay, Atlantic Ocean and Small Coastal Basin, York River Basin and New River Basin. (See Figure 2.)
Figure 2.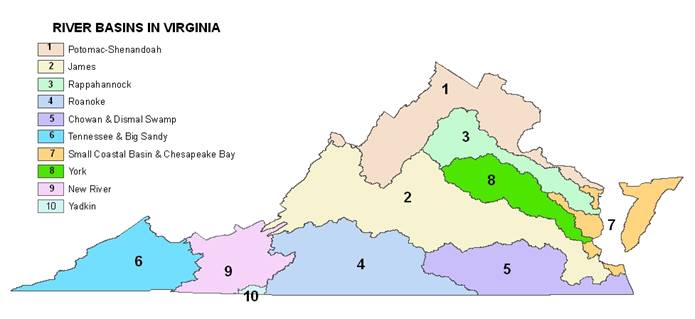 Each basin is further divided into sections. Each section is assigned a class, represented by Roman Numerals I through VII, based on its geographic location or, in the case of trout waters, on its use. Descriptions of these classes are found in 9VAC25-260-50.
B. Potomac water supplies (raw water intakes). The Leesburg and County of Fairfax intakes in the Potomac are in Maryland waters and the board cannot adopt the public water supply criteria in 9VAC25-260-140 B to apply at the raw water intake points. However, applications to discharge into, or otherwise alter the physical, chemical, or biological properties of Virginia waters within an area five miles upstream of the intake will be reviewed on a case-by-case basis to ensure that they will protect the water supply. Basin sections where this would be applicable are shown with an asterisk (*) in the basin and section description columns.
Statutory Authority
§ 62.1-44.15 of the Code of Virginia; 33 USC § 1251 et seq. of the federal Clean Water Act; 40 CFR Part 131.
Historical Notes
Derived from VR680-21-08.1, eff. May 20, 1992; amended, Virginia Register Volume 14, Issue 4, eff. December 10, 1997; Volume 26, Issue 12, eff. February 1, 2010.